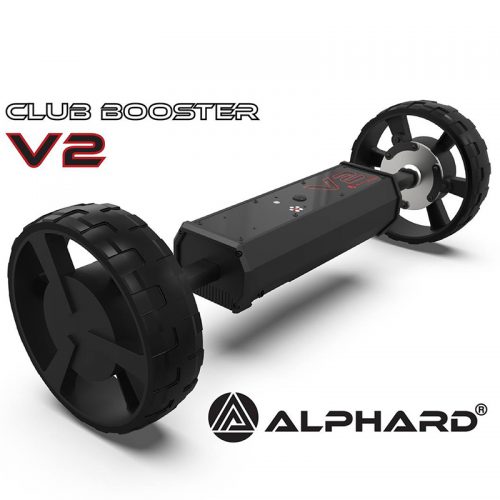 NEW!  Turn any pushcart into an Electric Remote Golf Caddy.  Decrease fatigue, increase focus and enjoy the course. E-Wheels V2 turns any pushcart to a remote-controlled motorized electric golf caddie.
Have your bag accompany you rather than hinder your enjoyment of the game. Many say walking is better than riding, but there's no need to carry your bag, or even push it. With the E-Wheel, all your golf equipment will always in the right place at the right time.
Traditional electric push carts are expensive, bulky and heavy. If the battery dies, you're screwed. Hand drawn golf caddies and golf bags strain your back and arms and make your game suffer.
E-Wheels uses aircraft-grade aluminum, gearless-brushless hub motor, and lithium-ion batteries that are maintenance-free and has a longer lifetime.  Don't be worn out from carrying your heavy bags. The constant stops and starts can be draining and hard on your neck and shoulders, all of which negatively impacts your performance.
Get around the course quicker and easier with less effort using E-Wheel. Perfect for hilly golf courses and on those with downhill inclines.  Not only will you lessen the weight on your shoulder, you'll be able to conserve energy and focus on what truly matters, the game.
Enjoy Your Day and Walk the Course.  Walking is great for cardio, but pushing or pulling your cart will wear you out before you finish.  Hit the green, grab your putter, send your cart off to the next tee, walk up already reading the green from the fairway, and finish up your hole. Focus on making the shot instead of pushing your cart around.
E-Wheel's cruise control maintains the same speed up and downhill. The powerful dual brushless motors and polyurethane wheels makes sure that your clubs get to where you need them quickly and effortlessly.
Compatible with most popular pushcarts like Clicgear, Bagboy, Sun Mountain, CaddyTech.  I recommend the Clicgear Rovic with the free spinning front wheel for effortless turning (as opposed to a cart with a fixed front wheel).
Call/text 403-528-7007 or email bobsailergolf@shaw.ca for pricing and availability.
Click here to go back