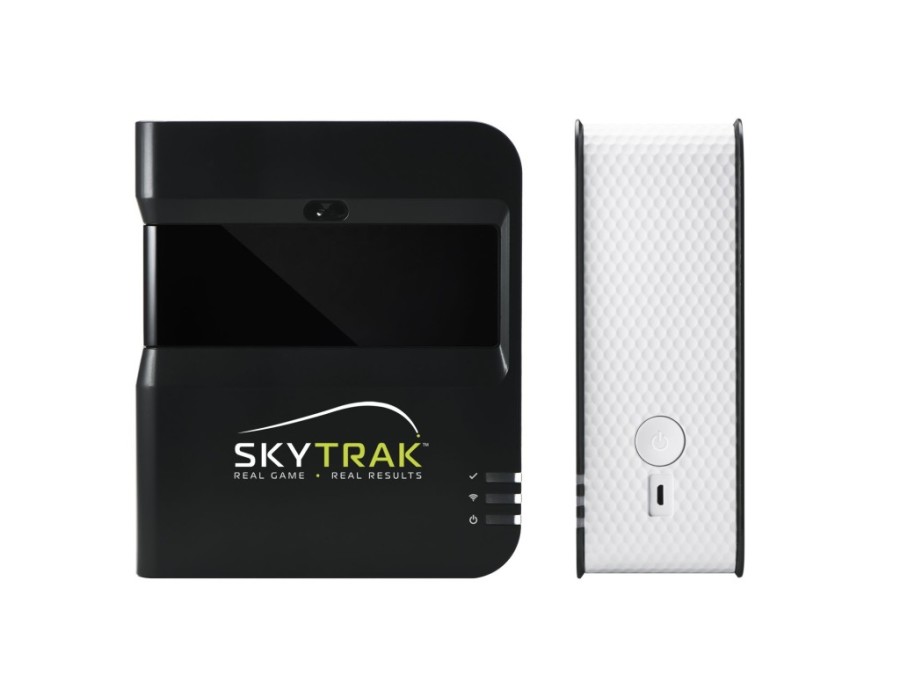 Accurate and Affordable:
SkyTrak is a personal golf launch monitor for fitting golf clubs or for pure entertainment.  SkyTrak connects wirelessly to your mobile device or computer, then accurately captures and displays launch data and ball flight as soon as you hit the ball.  You'll see the ball fly and receive instant feedback on every shot.   For the first time, you can afford a reliable launch monitor  that provides the accuracy of a commercial-grade launch monitor that could cost $10,000 or more.
REALISTIC BALL FLIGHT:
Get immediate feedback on every shot with instant 3D visualization, powered by SkyTrak's advanced flight model and ball spin measurement capability. Most launch monitors , even those costing more than $10,000 and up to $50,000, do not produce results that are representative of your actual ball striking ability.  SkyTrak launch monitor  is designed to give you the same swing data you would get at the course hitting your balls with your clubs.
PRACTICE ANYWHERE, ANYTIME with NO WIRES or CABLES:
SkyTrak's unique launch monitor  design is completely wireless, giving you the freedom to play and practice anywhere.
SkyTrak Launch Monitor Features:
SkyTrak is a revolutionary development in affordable launch monitor technology to provide unmatched accuracy in the golf simulator market.  Packing a lot of power, advanced features and fun into a small package, you will quickly see that SkyTrak is in a class by itself. SkyTrak Features include:
Photometric Launch Monitor with Commercial-Grade Accuracy
Completely Wireless Design
Connects via Wi-Fi to iPad Air
Rechargeable Lithium-ion Battery to eliminate power cables
Compact size measuring only Height: 6.75", Length: 5.75", Width: 2.5" and weighs only 1.75lbs
Ambidextrous
Robust Set of Measured Parameters:   Ball Speed, Launch Angle, Back Spin, Side Spin, Side Angle
The Advanced Package ($130.00 add on) offers everything in the Basic Package plus:
Sky Trak adds significantly more game improvement features, challenges and progress tracking to make you better and have more fun. This package also opens the door to many optional features in development that are coming soon, such as ability to play some of the best courses in the world in 3D.
Challenges and Fun. Show off your skills and test your improvement against friends or just have more fun with family.
Longest Drive Contest –The long drive competition in Sky Trak provides golfers the opportunity to test their accuracy and distance with the driver.  Can be used in Sky Trak's Single or Multiple Player mode to add some competitiveness to your session or to challenge your friends.  See how your carry, total and offline driver distances compare to your friends along with the all-important ball flight data for a better understanding of how your launch angles, spin rates, ball speed compares to the long hitter in your group.
Closest to the Pin Contest – Customize your target distance to the pin and get started.  This Sky Trak challenge provides a detailed look at your ball flight with a focus on precision and will keep you coming back to beat your best shot, best friend or family member.  Helps golfers better understand how to hit each club a specific distance at a fixed target.  Play in single mode or multiplayer to add a little competition and more fun to your practice all with SkyTrak.
Target Practice –  This SkyTrak challenge provides golfers the opportunity to select a target size – easy, medium or hard, and set the distance to the bull's eye center.  Shots are scored based on the accuracy of the shot.  Practice your short game inside 100 yards or work on your driver accuracy with longer range targets. Single or multiplayer SkyTrak mode available.
And more …
Custom Settings.  Change the SkyTrak practice range turf conditions from normal to soft or firm. Adjust environmental factors such as humidity and wind conditions to learn the effects of different conditions on your distances for better club selection and lower scores all with SkyTrak.
5 Camera Views – Adds more camera views to include: first person, dynamic, downrange, follow the ball or 45 degree overhead view.
Session History.  Sky Trak  stores shot data to analyze your performance and improvement over an entire session in a shot history table and graphically render a side and top view of shots, average distance with each club, and much more.
Progress Tracking, Charts and Graphs. Golfers can track their progress with Sky Trak, and know their distances and numbers for a better understanding of their game with Cloud  Storage in your SkyTrak personal data locker provided via SkyGolf 360 mobile app.  Chart your stats  by  club by shot and see average carry distances, learn your maximum distance and create a bag map for better club selection during play.
Protective Metal Case:  $175.00 (to protect against errant balls).
Click here to go back