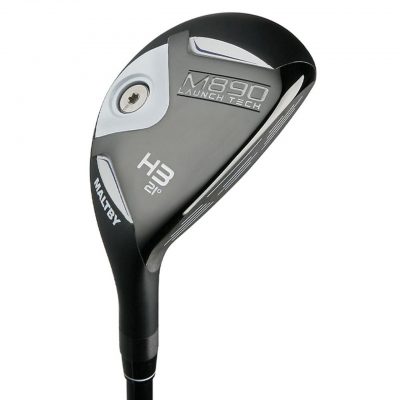 Built for Distance! – The M890 Hybrids are precision cast from 17-4 Stainless Steel body featuring a thin 0.8mm crown and a VFT face geometry to produce increased ball speeds. A perfect compliment to the M890 iron set, the M890 Hybrids are available in 3 lofts to replace hard to hit mid and long irons.
Head Weight Customization – The M890 Hybrids feature an interchangeable 8 gram weight positioned rearward towards the heel and deep into the club head to allow the club face to more easily rotate back to the square position during the downswing for improved shot dispersion. The stock 8 gram sole weight is interchangeable using the Maltby T-25 Torx screw weights by +/- 6 grams to allow for multiple shaft weight and shaft length options without sacrificing the feel of the overall assembled club.
Features:
Precision cast from 17-4 Stainless Steel featuring a strong but flexible 0.8mm crown thickness to increase flexibility and a VFT (Variable Face Thickness 2.5mm – 2.2mm) club face design to maximize ball speeds from any impact location on the clubface.
Variable sole thickness – an internal flex channel 1.3mm thick next to the club face to increase shell flexibility for increased ball speeds. Progressing from the center of the sole to the back of the sole the sole thickness increases to constant 4.2mm thickness to lower the center of gravity for improved playability.
Optimal 1.312" face heights to provide confidence from any type of hitting surface.
8 gram T-25 tungsten weight positioned back and towards the heel to lower the center of gravity to produce high launching penetrating shots from the fairway.
Available in right hand only in #3, #4, #5 (21*, 24*, 28* lofts).
Click here to go back