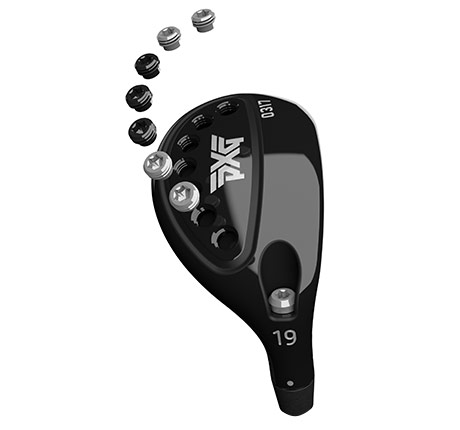 NEW!!  The PXG 0317 hybrid feature seven interchangeable weights on the back of the sole.
Heavy tungsten weighting in the sole creates low back CG for consistent high launch off the club face.
The PXG 0317 hybrid's adjustable hosel also provides +/- 1.5 degrees of loft adjustment range in .75 degree increments.
Available Lofts: 17°, 19°, 22°, 25° and 28° in RH and LH.  Call or email for pricing.
What do the numbers mean?
PXG founder Bob Parsons served as a rifleman with the United States Marine Corps during the Vietnam War. A recipient of the
Purple Heart Medal, Combat Action Ribbon and Vietnamese Cross of Gallantry, Parsons credits his service in the Marine Corps
for his successes in life.
PXG's unique club numbering system is a tribute to the brave men and women who serve in the United States Marine Corps. The
Marine Corps' Military Occupational Specialty (MOS) is a system for categorizing career fields. All enlisted and officer Marines
are assigned a four digit code denoting their occupational field and specialty.
HYBRIDS – MOS 0317
Scout Sniper: The scout sniper is a Marine skilled in field craft and marksmanship who delivers long
range, precision fire on selected targets from concealed positions in support of combat operations. They
have a secondary mission of gathering information for intelligence purposes.
Click here to go back