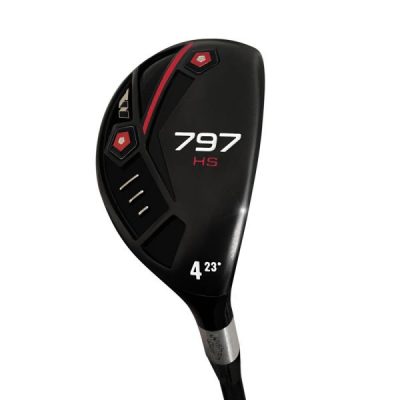 NEW FOR 2023!   Wishon Golf's new 797HS hybrids offer a high COR face design with slightly stronger lofts to deliver more distance when used off the tee on tight holes or longer par-3 holes.
The 797HS is also designed with three weight bores to allow as much as a 27 gram increase to the headweight, allowing clubmakers to build to a wide variety of shorter custom lengths at normal swingweights to achieve much better control and consistency with little to no loss of distance.  Designed with a slightly more narrow body shape with progressively taller face height, when set behind the ball the 797HS hybrids look incredibly easy to hit consistently high to achieve maximum carry distance.
C455 high strength steel alloy face delivers higher COR for higher ball speed and greater distance.
Unique 797HS head design combines a slightly more narrow body shape with slightly taller face height to offer a confident look behind the ball and less chance of hitting under the shot from fluffy rough.
33 to 35mm progressive face height combines with thicker sole section to offer a slightly higher CG to generate penetrating shot trajectory with  adequate height, good for use off the tee on tight holes or long par-3 holes.
Body and hosel are investment cast from 431 stainless with heat treatment to allow bending the hosel 2-3° for custom lie and face angle fitting needs.
Industry standard hybrid lengths are as much as 2" longer than an iron with the same loft.  The twin sole weight bores on the 797HS combine with the hosel weight bore to enable clubmakers to add as much as 27g to the headweight to allow assembly to shorter lengths for more control, consistency and proper distance to ensure proper distance gaps, down to the irons.  Wishon Golf has proven hybrid lengths at or even shorter than an iron of the same loft will deliver more consistency and control without large distance gaps.
RH only.  Call/text 403-528-7007 or email for additional info.
| | | | | | |
| --- | --- | --- | --- | --- | --- |
| Clubhead | 3 | 4 | 5 | | |
| Loft | 20 | 23 | 26 | | |
| Lie | 58 | 59 | 60 | | |
| Weight | 240 | 247 | 254 | | |
| Offset | | | | | |
Click here to go back