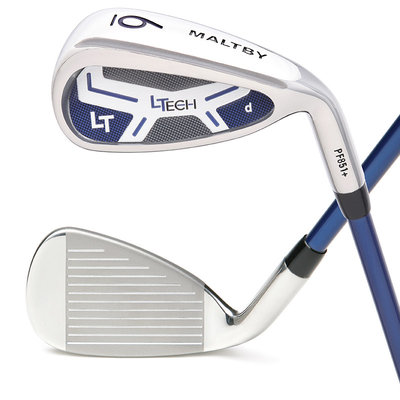 NEW! MALTBY L-TECH IRONS:
-Designed exclusively for Lady golfers who typically have slower swing speeds.
-Available in #6-PW, SW in irons and H3, H4 & H5 Hybrids for a true "hybrid" iron set to maximize playability.
-Wider, four way radiused sole and shallow blade profiles to aid in getting the ball airborn.
-More toe/heel weighting for a higher moment of inertia.
-Longer blade lengths stabilize the clubhead and expands the effective sweetspot.
-Progressive off-set, helps square the club head at impact.
-Matching LTech graphite shafts in 3 distinct ladies flexes available.
| | | | | | | | |
| --- | --- | --- | --- | --- | --- | --- | --- |
| Clubhead | 6 | 7 | 8 | 9 | PW | SW | Tol. |
| Loft | 32 | 36 | 40 | 44 | 48 | 54 |   |
| Lie | 62 | 62.5 | 63 | 63.5 | 64 | 64 |   |
| Weight | 268 | 275 | 284 | 293 | 303 | 308 |   |
| Offset | 6.35 | 5.53 | 4.75 | 3.96 | 3.17 | 3.17 |   |
–Available in right hand only
 
Steel Shaft: $73.00 per iron
Graphite Shaft: $83.00 per iron
Click here to go back