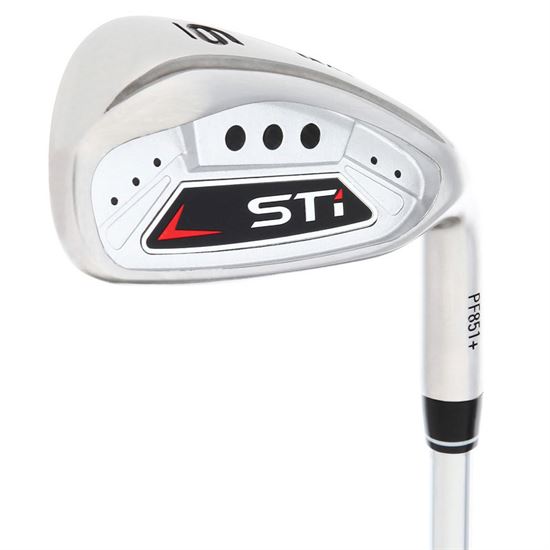 NEW!  The Maltby ST-i irons are an Ultra Game Improvement cavity back iron design. The elongated blade and dominant toe/sole weighting create a very long C-Dimension (1.559″) which creates a very stable and forgiving head at impact. The long C-Dimension is an ideal iron choice for golfers that have a tendency to miss shots towards the toe of the iron face. Three shock dampening rubber pins have been inserted into the cavity weight pad to reduce shock and promote a solid feel on center, toe and heel impacts. A thinner sole with progressive bounce angles make the ST-i very turf friendly in all types of course conditions. Can be matched with the STi-H Hybrids (MA0268) to create a true Ultra Game Improvement set.
Features:
Ultra Game Improvement cavity back design.
A 1.559" C-Dimension creates an extremely stable and forgiving iron head.
Shock dampening rubber pins strategically located directly behind the sweet spot provides a very soft, solid feel at impact.
USGA compliant U Grooves.
431 heat treated stainless steel promotes a "forged" feel and allows for easy loft and lie adjustments.
Progressive offsets help to square the club face at impact in the long to mid irons and allows for easy point and shoot alignment in the short irons and wedges.
Progressive bounce angles coupled with a tour ground leading edge and 4 way radius sole helps eliminate fat shots but remains playable on all turf conditions.
Available in RH only 5-PW, GW, SW
Steel Shaft: $69.00 per iron.   Graphite shaft: $79.00 per iron.
Clubhead
5
6
7
8
9
PW
GW
SW
Tol.
Loft
24
27
31
35
40
45
50
55
 
Lie
61.5
62
62.5
63
63.5
64
64
64
 
Weight
252
259
266
274
282
290
290
295
 
Offset
3.5mm
3.5
3
3
3
2.5
2.5
2.5
Click here to go back