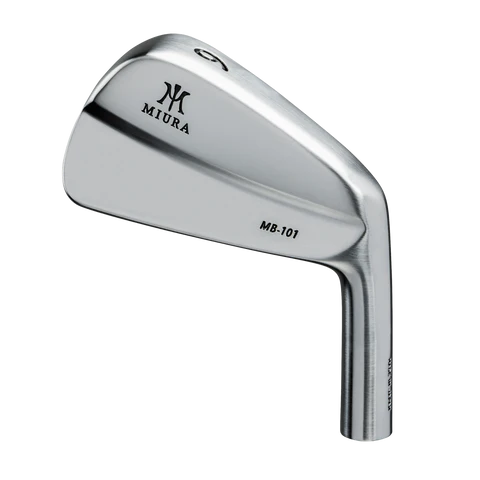 The NEW Miura MB-101 Iron! Many of you may know that Miura has been making the world's finest and prestigious forged golf clubs since 1957. Designed and produced by Master Craftsman Katsuhiro Miura, each club is individually made using Miura's patented forging process. To this day, Miura-san continues to work in the factory along side his sons, Shinei and Yoshitaka, who proudly carry on the Miura legacy.
The new MB-101 incorporates the best characteristics of early Miura iron designs and models. The subtle refinements to the sole allow the club to glide effortlessly through the turf. The sole width and face thickness have been optimized based on the predecessor, MB-001, resulting in heightened feel and enhanced feedback.
The top line is razor thin, a trait that better players seek in a forged bladed iron. As you can also see from the specs below, the offset is next to nothing especially with the 5 thru PW. (large FP means less offset) This is definitely a design that appeals strongly to the better players and the most critical golf club connoisseurs in the market.
The design philosophy of Mr. Miura himself is to only release new models when they can be improved upon. The subtle, yet highly effective enhancements incorporated into this new MB-101 has resulted in the creation of the best blade iron Miura has ever produced. Not only is it aesthetically beautiful, the performance and playability can be fully appreciated by single-digit handicap players as well as mid-handicap players to feel the difference and experience the benefits. The new MB-101 will bring joy to the accomplished players and a highly satisfying sense of owning one of the best blades on the market.
The subtle changes in sole width, head shape, CG and weight distribution make the new MB-101 perform like no other, empowering better players with precise distance and trajectory control as well as workability.
"This is a model of which the entire Miura family can be proud," said Shinei Miura. "My father is as passionate about the MB-101 as any club he has ever designed. Our hope is that it will be recognized as one of the finest irons our factory has ever produced and will remain in our model lineup for years to come."
The release of the MB-101 comes in the wake of a record-breaking year for Miura Golf. In January, Miura launched the CB-301, the most forgiving forged iron Miura has ever released and a design that has quickly become Miura's top-selling irons and a favorite by Miura fanatics all across the world!
If you are not quite the Cavity Back player and have been long waiting for an updated Miura blade, finally the wait is over with the new MB-101!
-Call or email for pricing.
| | | | | | | | | | |
| --- | --- | --- | --- | --- | --- | --- | --- | --- | --- |
| | Club # | #3 | #4 | #5 | #6 | #7 | #8 | #9 | PW |
| | Loft(degrees) | 21 | 24 | 27 | 30 | 34 | 38 | 42 | 47 |
| | Lie (degrees) | 60.5 | 61 | 61.5 | 62 | 62.5 | 63 | 63.5 | 64 |
| | Weight | 244 | 251 | 258 | 265 | 272 | 280 | 288 | 298 |
| | | | | | | | | | |
| | | | | | | | | | |
| | | | | | | | | | |
Click here to go back