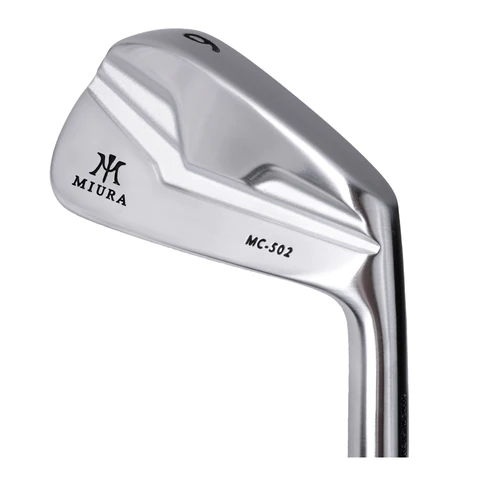 NEW!  The MC-502 (Muscle Cavity).  The MC-501 was one of our most popular models. Ever! The "modern blade" was popular with so many players because it was easy to hit and delivered a great ball flight. The MC-501 proved that forgiveness was attainable in a blade iron without compromising performance. Subtle design enhancements enabled Shinei Miura and his design team to improve both forgiveness and performance in the MC-502, meeting the discerning needs of all players.
The MC-502 incorporates an increase in face progression (less offset), which has always been a welcomed look for the better player. Additionally, a softer, more rounded top line and toe profile found their way from the sketch pad to the factory. These subtle changes were able to deliver even greater confidence to the golfer, evident when lining up the club head at address.
Optimized effective bounce is achieved thru the precise use of camber in the sole. However, more bounce and more camber meant more weight added to the sole. Knowing that he did not want to change the size of the clubhead, Shinei Miura needed to maneuver that weight from elsewhere in the head. In the case of the MC-502, the visible channels proved to be not only atheistically pleasing, but also the source of the additional weight needed. The precise amount of weight varied with each specific loft (iron) with the attention to detail being a priority so as to not impact the feel and performance of the head.
When some MC-501 players talked with us about their flight preferences, we knew there was a class of 501 lovers who didn't want or need the offset of the original MC-501. So, we began to make a less-offset version, and that became the MC-502. Offset impacts the ability to control performance for the better player. Incorporating less offset would improve this characteristic. The decreased offset available on the MC-502 delivers the feeling of control as the ball "rides the clubface" without compromising feel. The MC-502 will fit the eye of every golfer, particularly at the address position. Allowing for precise alignment and playability.
Available in RH only.  Call or email for pricing.
| | |
| --- | --- |
| MODEL | 3I 4I 5I 6I 7I 8I 9I PW |
| LOFT | 21º 23º 26º 29º 33º 37º 41º 46º |
| LIE ANGLE | 60.5º 61º 61.5º 62º 62.5º 63º 63.5º 64º |
Click here to go back