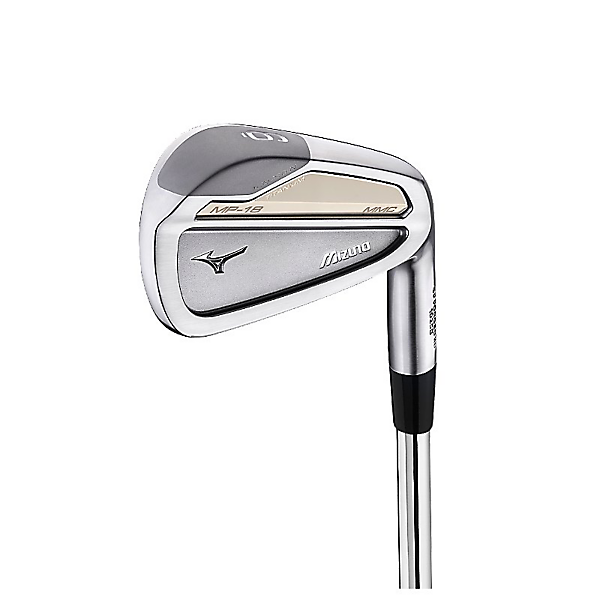 NEW!  The Multi Material Construction stems from a three-year project between our R&D team and our legendary forging house to address the demands of the modern player. The highly stable, forgiving multi-metal construction satisfies the needs of a large range of players. Through the strategic use of lightweight titanium and heavier tungsten parts sealed within its 1025E mild carbon steel head MP-18 MMC provides workability, control, piercing ball flight, and forgiveness while maintaining a similar 'tour-ready' profile and size to the MP-18 SC.
Key Features:
1025E Pure Select: Six times tighter tolerance than industry standard for greater purity.
Satin Nickel Chrome Finish: An elegant, yet durable non-glare finish.
Forged Titanium Muscle: Titanium forged directly into carbon steel body allows for redistribution of discretionary weight for increased forgiveness.
Tungsten Toe Weighting: High density Tungsten mass concentrated low and toe side increases launch and Sweet Area.
All 4 MP models (MB's, SC's, these MMC's, and the FLI HI's) were designed to be combined into one set if desired.  Any combination is possible.
No Upcharge for any Premium Steel or Graphite shafts or Premium grips.
Call or email for pricing.
RH only.
| Club # | 4 | 5 | 6 | 7 | 8 | 9 | PW |
| --- | --- | --- | --- | --- | --- | --- | --- |
| LH | N/A | N/A | N/A | N/A | N/A | N/A | N/A |
| Loft º | 22º | 25º | 28º | 32º | 36º | 41º | 46º |
| Lie º | 60.0º | 60.5º | 61.0º | 61.5º | 62.0º | 62.5º | 63.0º |
| Off Set " | 0.138″ | 0.134″ | 0.130″ | 0.122″ | 0.114″ | 0.106″ | 0.098″ |
| Bounce º | 2º | 2º | 3º | 3º | 4º | 5º | 6º |
| Length | custom | | | | | | |
Click here to go back