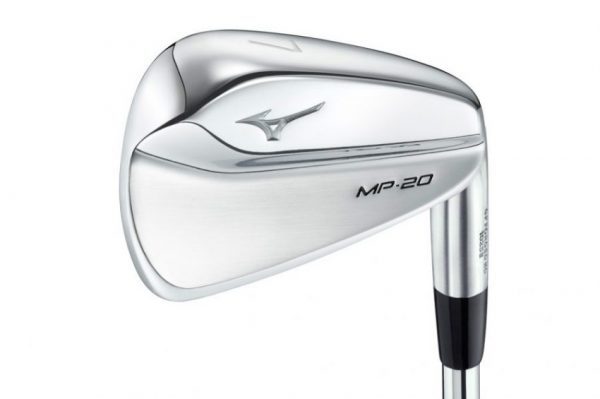 NEW!  Mizuno's stated goal for the MP-20 was to create The Ultimate Tour Blade. Visually, it's unquestionably a throwback to the MP-29 and to a lesser degree the MP-14. Once upon a time, that combination was in Tiger's bag. By some measure, it still is.
As you'd reasonably expect, if you're going to make the Ultimate Tour anything, you're going to need the Tour players to weigh-in. In working its way to the final design, Mizuno started with two different head shapes with two different back types. Filed under nothing is easy, tour players preferred the look of the more traditional blade (what Mizuno called Type A), but the same players preferred the feel of the Type B Channel Back design. Thanks, guys.
The solution was to blend elements of both and create what Mizuno calls a tapered back design. Functionally, the design is similar to the topline chamfering techniques employed by PING, PXG, and others. It's a bit of clever design that allows engineers to make a visually smaller topline, even if the calipers say otherwise.
Mizuno believes the additional width is why Tour Players preferred the feel (thicker tends to feel softer, while irons with thinner toplines are a bit clickier), while the tapering provides the visual voodoo that gives them the look they want.
The topline taper rate increases with loft, which helps the 9-iron and PW flow seamlessly with Mizuno's new T20 wedges. That's all well and good, but the more relatable bit of that is that like some wedge designs, the MP-20 blade will provide a more penetrating ball flight as loft increases.
It should go without saying that the blade option is the least forgiving model in the MP-20 line, but it will also provide the lowest most penetrating trajectory while offering the most workability.
Fully Grain Flow Forged HD from 1025E mild carbon steel, the MP-20 Blade features a Satin+Mirror finish designed to look sophisticated while reducing glare at address.
Right handed: 3-PW.
Left handed: 5-PW only.  See SEL (Special Edition Leftie in LH section).  #3 & #4 in LH in HMB style = more forgiving.
Call, text (403-528-7007) or email for pricing.
Click here to go back