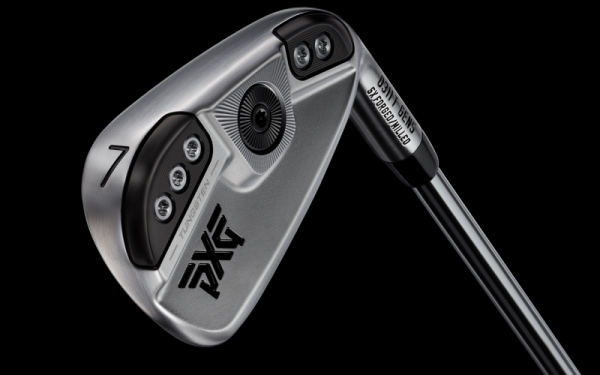 NEW!  The PXG 0311 P GEN5 irons are longer and more forgiving than their GEN4 predecessors.  Same great feel in a similarly attractive package.
Introduction
The folks at PXG have made it known that they only release a new generation of clubs when they feel they have created something demonstrably better than what came before.  In the case of the GEN5 irons, that marker is primarily distance and forgiveness.
PXG has really nailed down marrying player-preferred looks with forgiving technology.  The GEN5 irons feature attractive milling on the back of the club, very similar to GEN4.  This time, they've added two sections of contrasting dark steel at the heel and toe.  These are milled to look like they are separate pieces but the clubhead remains one solid piece.  They also emphasize the tungsten weights.
Overall, the looks feel like a logical continuation of GEN4 rather than a significant departure.  And that's a good thing.  They're eye-catching without being too flashy.
At address, the 0311 P irons look friendly but still relatively compact.  There is a moderate amount of offset, the topline is reasonably thin, and the blade length is not too short and not too long.  When it comes to game improvement irons, there aren't any more attractive irons out there.
The 0311 P irons are the middle of PXG's range of offerings.  They sit right between the T (more compact and less forgiving)  and XP (bigger profile and more forgiving) .  The P stands for "Players," but these irons may be better described as "Players Distance."
Sound and feel are PXG's bread and butter.  Think fresh sourdough right out of the oven with whipped artisan butter.  For GEN5, PXG engineers worked to improve the XCOR material, creating XCOR2.  This polymer fills the inner cavity of the clubhead and, coupled with an incredibly thin face, creates a soft yet explosive feel at impact that is satisfying and unique to PXG.
Here's an anecdote to illustrate how thin PXG iron clubfaces are and how integral the XCOR2 material is to the sound and feel of the irons.  In a presentation on GEN5 technology, PXG Chief Product Officer Brad Schweigert stated that, without the support of the XCOR2 polymer inside the clubhead, the clubface would begin to cave in after one strike.
The feel of impact is sublime.  I think that feeling of a well-struck iron shot is one of the primary reasons many of us keep coming back.  It seems that because of the forgiveness offered by these irons, this feeling happens a bit more often than it might otherwise.  The sound is explosive yet controlled.
In terms of feel, one of the big innovations from GEN4 has remained.  It is the large circular weight at the back of the clubhead.  PXG calls this Precision Weighting Technology.  Used during the fitting process to dial in swing weight to suit player preference, it is locked in place and not able to be changed afterwards.  This technology adds a valuable new variable to the fitting process that other OEMs don't currently offer.
Conclusion:
The PXG 0311 P GEN5 irons are a continuation of the company's commitment to innovation in iron technology and performance.  They look sharp, feel great, and go a mile.  As ever, they aren't the most affordable irons on the market but those interested will already know that.
Call/text 403-528-7007 for more info.  Available in RH and LH.
Click here to go back