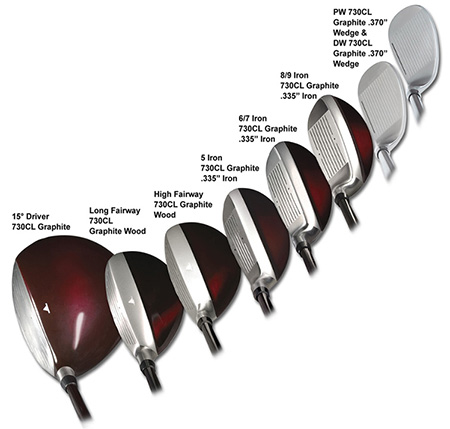 An 8 club game improvement set designed specifically for golfers with a driver swing speed of 80 mph or lower.  Loft increments are at 6 degrees between each club – perfect for slower swingers to achieve normal 10 – 12 yd distance increments between each club.
-The 730CL driver is designed with a higher loft for swing speeds of 80mph or lower to attain the proper launch angle for maximizing the distance potential of golfers within this swing speed range.  Extra thin face design for slower swinging golfers to increase ball speed off the face for more distance. Golfers with a swing speed of 90mph or higher are NOT to use this driver as the face will fracture.
-The semi-offset hosel design contributes to fade/slice reduction and allows for the more rear located CG position for higher launch angle and more control.
-The 730CL driver is designed with Wishon Golf's innovative GRT face for true launch angle consistency regardless of point of impact.
-Finished in a very striking deep claret red with bright satin polish highlights
Fairway woods designed expressly for golfer with a swing speed of 80mph or lower to maximize distance.
– Long Fairway (20° loft) and a High Fairway (26° loft) are the ideal fairway wood lofts for golfers with a swing speed of 80mph or lower.
– Designed with true Zero Roll to ensure consistent launch angle.
– Medium shallow 32.5mm face height to lower CG for more ease in getting the ball up in the air to fly longer.
-The #5, 6/7, 8/9 hybrid body 730CL irons, combined with the conventional PW and DW have 6° loft increment for adequate distance difference between clubs for the golfer with slower swing speed.
-730CL Hybrid iron face heights progress in face height – wedge face profiles designed to blend in face profile to the 8/9 hybrid iron.
-"Split-level Sole" design of the 730CL hybrid body irons plays like wide sole conventional iron.
All 8 clubs built with matching Ruby Lite graphite shafts in A or AA flex.  Grips will be of the golfer's choice for style and size.
Call/text 403-528-7007 or email for pricing and/or additional information.  RH only.
Click here to go back