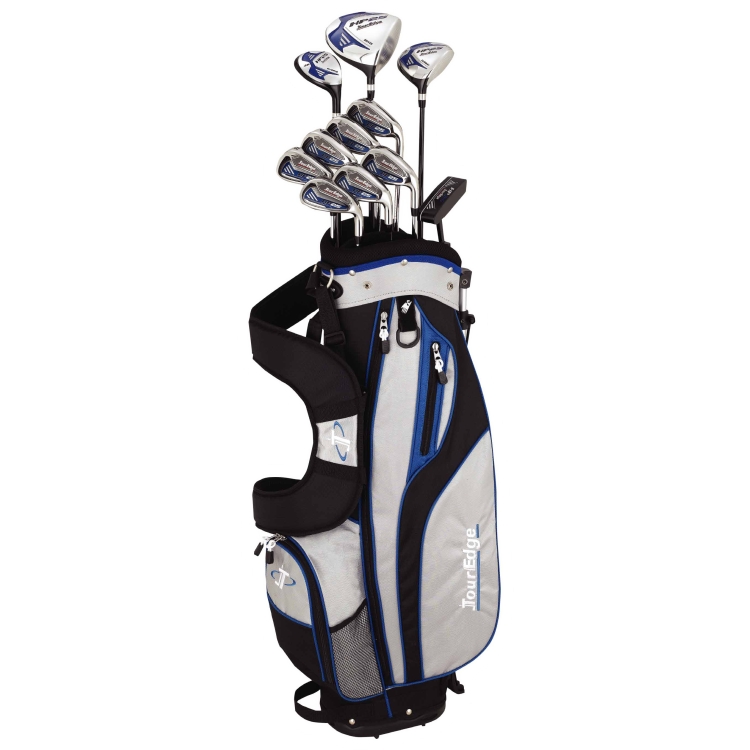 Product Information:
Is your golfer a taller Jr or has simply outgrown a typical Jr set?  Then send your golfer to the course in confidence with a Varsity HP-25 Complete Set.  A high MOI driver promotes heightened launch and outfits young golfers with increased distance.  The low profile fairway wood and hybrid feature low Center of Gravity placement for quicker launch and softer landing.  Over-sized stainless steel irons and a classic blade putter ensure your aspiring golfer is ready to play with the Tour Edge® Varsity HP-25 Complete Set.
FEATURES:
For golfers age 12 and over, measuring 60″ and above who have outgrown a typical Jr set.
Complete set designed to equip young golfers with performance right out of the box.
High MOI 460cc driver promotes heightened launch angle for longer, straighter drives.
Low profile fairway wood features a low Center of Gravity to get the ball into the air quickly.
Hybrid features a wide sole and low Center of Gravity for maximum carry and a soft landing.
Oversized stainless steel irons feature a deep undercut cavity and large sweet spot for more forgiveness.
Classic heel-toe weighted blade putter equipped with alignment aids allows for greater accuracy.
Premium lightweight stand bag features a 6-way top, dual carry straps, and 4 zippered pockets.
High-quality Driver and Fairway Wood headcovers protect clubs in between uses.
What's Included:
Driver: Length 43″, 13* loft (graphite shaft).
3 Wood: Length 42″, 18* loft (graphite shaft).
4 Hybrid: Length 37.5″, 25* loft (lightweight steel shafts in the rest).
5 Iron: Length 37″, 27* loft.
6 Iron: Length 36.5″, 30* loft.
7 Iron: Length 36″, 34* loft.
8 Iron: Length 35.5″, 38* loft.
Pitching Wedge: Length 34.5″, 46* loft.
Sand Wedge: Length 34″, 55* loft.
Putter: Length 33″.
Headcovers (2).
Lightweight Stand Bag.
Also available in an 8 piece set (no #5 or #7 iron).
11 piece set is $469.00.
8 piece set is $419.00.
Click here to go back