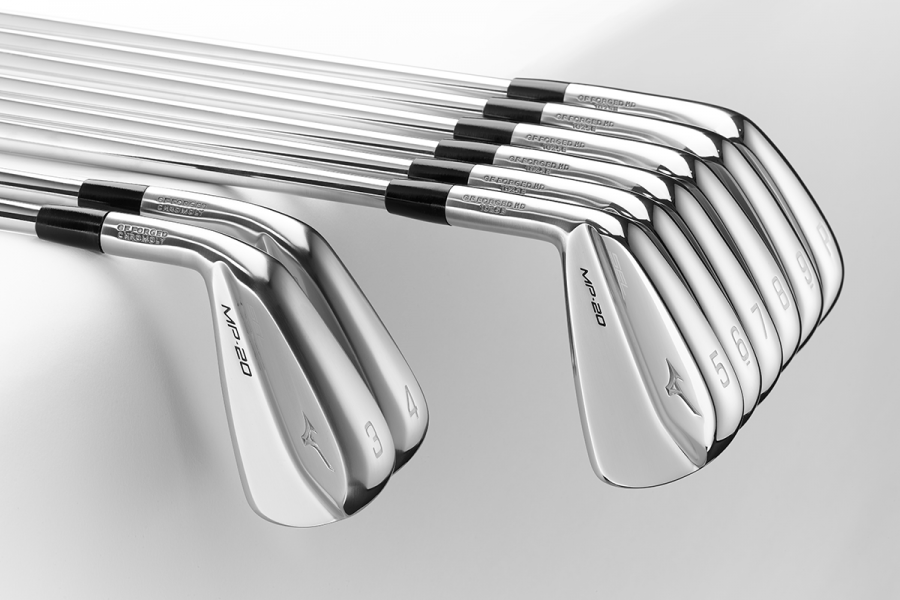 NEW FOR 2020!  SPECIAL EDITION LEFT HAND (SEL).  The perfect mixed set of precise, shotmakers MP-20 muscle back mid to short irons, and stable, easy launching MP-20 HMB long irons. Based on our most popular right handed, blended set with lofts adjusted for perfect distance gaps throughout.
Mizuno's Chris Voshall acknowledges that Mizuno hasn't always given lefties everything they want. For example, there hasn't been a left-handed blade from Mizuno since the MP-68. And while the SEL likely won't be everything lefties want, this time around, Mizuno wanted to something different, perhaps even a little special for left-handed customers longing for something other than the middle of the lineup forged iron.
Fundamentally, the MP-20 SEL (Special Edition Lefty) is a pre-packaged combo set that blends HMB 3 and 4-irons with 5-PW MBs. Mizuno took the added step of lasering 'SEL' onto the clubhead. It's a small detail, but it's one that no right-handed player gets.
From a technical standpoint, the clubs are the same (there's no lefty-specific engineering), but it's worth taking note of the specifications. For the SEL, Mizuno has maintained ½" and 4° progressions throughout the set. It's the way Chris Voshall believes every iron should be made. "Engineering-wise," he says, "it's the best set we offer." As an unfortunate consequence of the loft-jacked fitting cart, launch monitor battle nonsense world in which we live, not every set is made with logical progressions. Everybody needs to compete on even ground, even if that ground isn't always fundamentally sound, and so demo (7-iron) lofts tend to be stronger than maybe they should be, and the rest of the set gets tweaked to work around them.
Left-Handed or Right-Handed, Chris Voshall recommends that if you're placing a custom order, you order with the same consistent 4° loft progression.
No doubt some lefties will lament the lack of choice in how they build a combo set, but Mizuno is hoping there's enough pent-up demand for something different (primarily the blade) that left-handed golfers will be satisfied by the new offering.
You don't get the MMC, but you get high trajectory long irons and a really sexy blade in the middle and short irons. A perfect offering, it's not, but I think most will agree it's a step in the right direction.
Club        #Loft°         Lie Angle                      Offset (inch)                            Length
MP-20 HMB
3                18                59.5                             0.146                                          custom
4                22               60                                0.142                                          custom
MP-20
5                26               60.5                             0-094                                         custom
6                30               61                                 0.091                                         custom
7                34               61.5                              0.087                                         custom
8               38               62                                 0.083                                         custom
9               42               62.5                              0.079                                         custom
PW           46               63                                 0.075                                         custom
LEFT HAND ONLY
Click here to go back