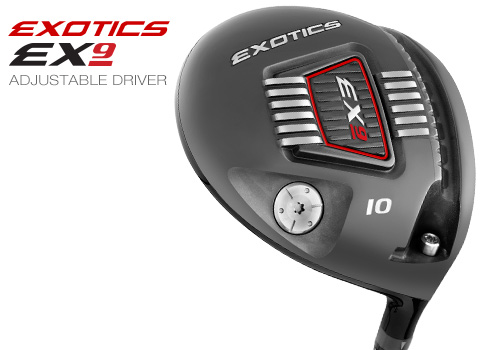 The new Exotics EX9 driver's Full-Speed Impact design maximizes club head speed through a sloped crown and a subtle sole design optimizing weight distribution. The EX9 is available in two lofts and features adjustability options including loft, lie angle, and an interchangeable sole weight. The driver encompasses ideal sound, exceptional control, and explosive distance cultivating the best Exotics driver ever.
The EX9 drivers feature a 6A4V titanium construction and a new Hexagonal variable face thickness technology. The custom Hexagonal configuration offers multiple levels of thickness for superior launch speed from more points on the face, especially in the heel and toe areas.
The EX9 driver is a 460cc draw enhancing clubhead available in 10 and 12-degrees designed to deliver forgiving, high-flying drives. The EX9 incorporates a newly-designed hosel allowing players to change launch conditions using eight settings and adding or subtracting up to one degree of loft. This advanced versatility gives players the ultimate control in achieving optimal distance and ball flight.
The Full-Speed Impact design is highlighted by a new aerodynamic sloping of the crown reducing drag and generating faster club speed for maximum distance.
Enhancing the Full-Speed Impact design, the interchangeable sole weight independently located in each head helps players optimize the club's performance. The EX9 driver encompasses a heel weight for draw enhancement, helping golfers find the fairway. The standard 6-gram heel weight screw is housed in an 8-gram weight pad for 14 grams of sole weighting. Additional weight screws can be purchased individually or in a 3-piece kit.
Center of gravity is positioned deeper for lower spin with higher MOI (stability).
Adjustable with eight settings for dialing in optimum launch, trajectory and accuracy.
Advanced VFT technology provides superior launch speed from more points on the face – especially on the heel and toe.
Reengineered crown features aerodynamic slope to reduce drag and generate faster club head speed.
-Call or email for pricing.  10 degree in RH and LH.  12 degree in RH only.
EXOTICS EX9 ADJUSTABLE DRIVER SPECIFICATIONS

STD. LOFT

HOSEL SETTING

ADJUSTED LOFT

LIE

LENGTH

FLEX

10°

N

10°

58°

best

L,A,R,S,X

10°

N-

9.5°

58.5°

"

L,A,R,S,X

10°

N–

9°

59°

"

L,A,R,S,X

10°

U-

9.5°

59.5°

"

L,A,R,S,X

10°

UN

10°

60°

"

L,A,R,S,X

10°

U+

10.5°

59.5°

"

L,A,R,S,X

10°

U++

11°

59°

"

L,A,R,S,X

10°

N+

10.5°

58.5°

"

L,A,R,S,X

10° available in men's and women's right and left hand. 

 
Click here to go back