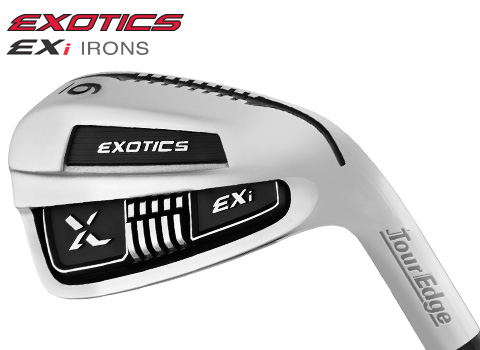 Traditional playability, feel, and control combined with built-in distance technology.
Exotics EXi irons feature a more traditional shape with less offset, and a dual undercut cavity for a deeper center of gravity and maximum control with distance. The combination of a dual undercut cavity for a deeper center of gravity, and the new Power Grid achieves a very thin sole behind the face.
A new, soft TPE encased insert in the cavity provides players with a softer feel at impact. The super thin face with an advanced new VFT design produces greater spring effect and solid contact even on off-center hits. Utilizing 431 soft stainless steel and a one-piece casting process delivers the feedback necessary for ultimate control and workability.
Traditional shape with less offset for classic playability and performance
Deep dual undercut cavity provides exceptional forgiveness
Variable face thickness technology creates an expanded sweet spot
EXOTICS EXI IRON SPECIFICATIONS

LOFT

LIE

LENGTH
-Call or email for pricing.  Other Exotics irons/equipment/boxed sets also available.  See www.touredge.com for more equipment offerings.
Click here to go back