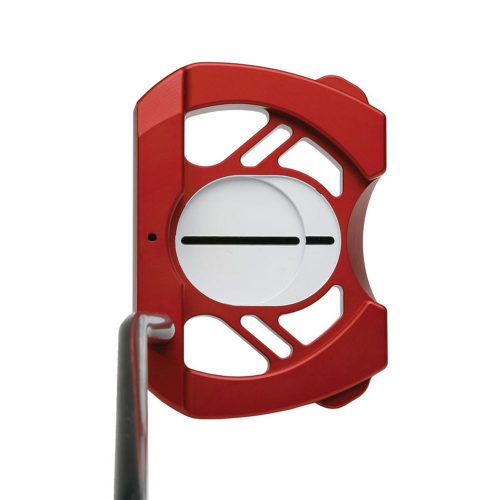 NEW!  The Maltby Moment X Tour putter is smaller "Tour" version of the oversized Moment X putter designed for players seeking a more traditional sized putter but still looking for the advantages provided by a high MOI putter head. The MOI of the Moment X Tour putter head is 7038 g-cm² which is unusually high for a moderately standard sized putter head. The high MOI will greatly increase the distance and directional control of the golf ball when hit off-center resulting in more putts made and far less 3 putts. The high MOI is accomplished by CNC milling the entire head out of aerospace 6061-T6 aluminum and adding heavy stainless steel sole weights to the rear of the putter to stabilize the putter head significantly more through impact vs. a standard putter head regardless of the ball impact location. The MOI was further increased by removing as much mass as possible from the body via carefully located slots and cut-outs without sacrificing the structural strength of the putter head.
Features:
-Modern Tour Mallet 3.25" x 4.50" x 1" profile preferred by traditionalist.
-Unprecedented moment of inertia (MOI – 7038 g-cm²) for a traditionally shaped Tour designed putter head for increased accuracy and distance control.
-Extreme 7K MOI was obtainable by CNC milling the body from a 6061-T6 aluminum block and precisely positioning two (53) gram 303 stainless steel weights into the rear of the putter head.
-The combination of the 6061-T6 aluminum and stainless weights provide an incredible feel at impact and increase both distance and accuracy control.
-Rich anti-glare matte dark red finish.
-Produces a very solid and muted sound at impact.
-Bold Ball-In-Motion Alignment helps to align putter head to the target at address.
-Head Cover included. (MA0299)
-Available in RH and LH options.
Price: $199.00
Click here to go back