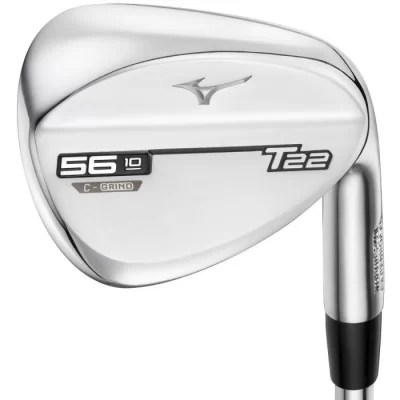 NEW FOR 20202!  Mizuno T22 Satin Chrome LH wedges.
The Mizuno T22 Wedges are crafted using Mizuno's legendary Grain Flow Forging process, a technique that has perfected over the course fifty plus years in Hiroshima, Japan.  And, with the addition of a soft feel copper underlay, these wedges produce the unrivaled touch and feel Mizuno is renowned for.
As with all Mizuno wedges carrying the T moniker, the T22's have a teardrop shape, and by flaring or tapering the upper portion of the blade, these wedges create a consistently high level of spin and a more penetrating trajectory.
Because spin is such an integral factor in high-level short game play, Mizuno Quad Cut Mills the T22's grooves with astounding precision.  These grooves are cut into Boron infused steel for increased durability, and are loft specific, so each wedge achieves peak performance for its intended purpose.  To ensure high level performance in wet conditions, HydroFlow Micro Grooves are laser etched into the face to release moisture and preserve spin rates.
Lofts range from 46* to 60*.
Call/text 403-528-7007 for pricing.
Click here to go back