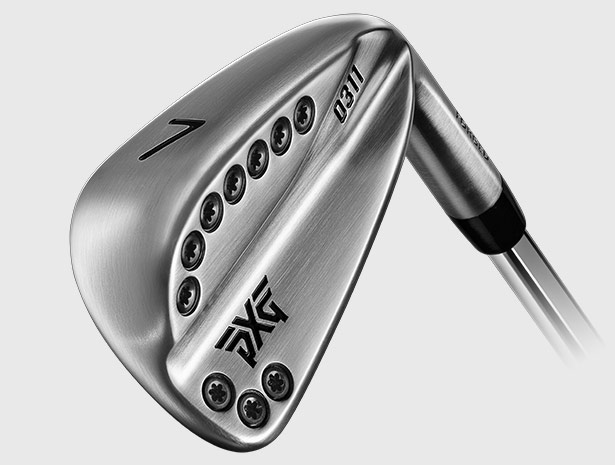 NEW!  PXG 0311 Irons in Chrome and Extreme Dark Finishes.
At first glance, the PXG 0311 irons look like a blade, but they are designed to outperform today's larger game-improvement irons in both distance and forgiveness.
The PXG 0311 irons feature an exclusive patented design and manufacturing technology that is truly unique to the industry.
Manufacturing begins with a forged open face body
The internal cavity of the forging is then precision CNC milled to an extremely thin-walled geometry
An ultra-thin, super high-strength HT1770 maraging steel face is plasma welded to create a hollow core
A thermoplastic elastomer is then injection molded into the core to enhance feel and provide structural stability
High-density tungsten alloy weights — which create the irons' signature look — are positioned around the edges to provide extreme perimeter weighting and maximum forgiveness.
The PXG 0311 irons perform and feel better than any other iron you've ever hit before, because they are designed and manufactured unlike any other iron ever produced. 
Engineered for golfers at every level of the game, PXG 0311′s are the world's sexiest, most forgiving irons that launch higher, go farther, feel softer and have a sweet spot the size of Texas. PXG irons are made with the finest alloys and are manufactured using a sophisticated process that only we would use. 
SOFTER FEEL & DRAMATIC PERFORMANCE
TPE (Thermoplastic Elastomer) is a low-density, vibration-dampening material that enhances a club's sound and feel. TPE also adds structural stability for PXG's patented ultra thin face and helps to produce a more efficient energy transfer.
EXCEPTIONAL FEEL AT IMPACT
The body is forged from S25C soft carbon steel. Forged materials, having a tight grain structure, resonate differently than cast materials which adds to an outstanding impact experience.
EXCEPTIONALLY HIGH MOI FOR BLADE-STYLE HEAD
By removing a significant amount of mass from the center of the club head through CNC milling and strategically repositioning it around the perimeter with tungsten weighting, the forgiveness of the PXG 0311 irons out-performs other irons.
WORLD'S THINNEST CLUB FACE
The ultra-thin face is formed from HT1770 high-strength steel. The patented technology of an ultra-thin face coupled with TPE material results in higher ball speeds and longer distances.
The weight saved by using a thin face allows more mass to be positioned in areas of the clubhead that help to optimize launch conditions and MOI (moment of inertia).
Available in RH and LH #3 thru #9, PW, GW, SW, LW.  Call or email for Pricing.
Click here to go back