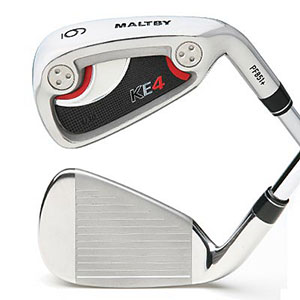 NEW! The Maltby KE4 U30 Irons are a revised version of our original and best selling KE4 iron. The KE4 U30 maintains the extremely low vertical center of gravity (.635") of the original design and falls into the Ultra Game Improvement category of the Maltby Playability Factor, with an actual MPF number of 1014.
-Ample progressive offsets help square the face at impact for straighter shots and the wider sole design is extremely turf friendly.
-The KE4 U30 design remains the most playable iron design on the market with a modern "players" cavity back iron profile.
Features: -Ultra Game improvement cavity back design that tallies over 1000 points in the Maltby Playability Factor making the KE4 U30 one of the most forgiving iron designs ever.
-Progressive offset in the #4 through #7 iron, with a constant offset in the #8 through GW.
-Grooves adhere to 2010 USGA guidelines.
-Extremely low vertical center of gravity (.635") which is ideal for sweeping swing types and players looking to hit the ball higher.
-Weight adjustable with 2, 4, 6 and 8 gram weights to maximize head feel.
-Available in #4 – PW, GW in RH and LH.
| | | | | | | | | | |
| --- | --- | --- | --- | --- | --- | --- | --- | --- | --- |
| Clubhead | 4 | 5 | 6 | 7 | 8 | 9 | PW | GW | Tol. |
| Loft | 24 | 27 | 31 | 35 | 39 | 43 | 47 | 51 |   |
| Lie | 60.5 | 61 | 61.5 | 62 | 62.5 | 63 | 63.5 | 64 |   |
| Weight | 247 | 254 | 261 | 268 | 276 | 284 | 291 | 291 |   |
| Offset | 4.5 | 4 | 3.5 | 3 | 2.5 | 2.5 | 2.5 | 2.5 |   |
–Available in right and left hand.
 
Steel Shaft:$69.00 per club
Graphite Shaft: $79.00 per club
Click here to go back