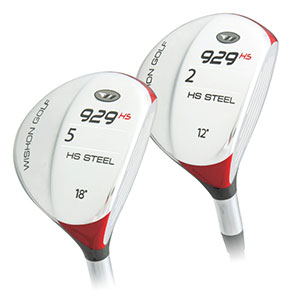 NEW! Left Hand Wishon 929HS Fairway Wood Shallow Face, High COR Face Design for Distance with Ease of Playability.
-New Soft Stainless Hosel Allows Custom Lie and Face Angle Fitting.
FEATURES: -304 Stainless Steel Hosel is separately welded to the body to enable ease in bending for a wide range of custom lie and face angle bending (+/-4*).
-31mm Shallow Face Height is ideal for golfers who play off tight, close mown fairways and for golfers who need more confidence getting the ball well up to fly.
-HS 350 High Strength Steel Thin Face allows for a high COR for increased ball speed and superb off center hit performance.
-Reduced Face-to-Back Sole Width reduces the sole to ground contact for more consistent contact with the ball, even from the rough.
-LH available in 15* and 18.5*.  Can be hand picked to +/- 1* for loft, and +/- 4* for lie and face angle bending-open or closed.
Clubhead
3
5
 
 
 
 
Loft
15
18.5
 
 
 
 
Lie
58
59
 
 
 
 
Weight
208
218
 
 
 
 
Face angle
 square
 square
 
 
 
Click here to go back