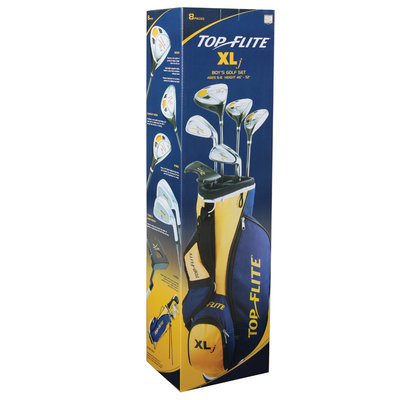 Top-Flight XLj Boys Set (Ages 5-8) $119.00
The Top Flite Boys' XLj Complete Set includes everything you need to introduce your child to the game of golf. This specially designed, 8 piece set features an oversized Driver, low profile Fairway Wood, easy to hit Hybrid, 2 forgiving, wide sole irons, alignment putter, deluxe stand bag and Driver headcover. Perfect for children between ages 5 – 8 or a height of 46 – 52 inches.
Correct Fit:
In order for children to learn and develop great golf skills, it's important that their clubs are the proper length and fit. The best fit is by height, or fingertip distance from the ground. 
Correct Grip: 
Junior sized grips feature an integrated design to teach hand position for a correct grip
Correct Alignment:
The crown alignment aid teaches correct, square clubface positioning on the Fairway Driver
Additional Details:
Driver and 5 Wood feature a low-profile head design, low center-of-gravity and more loft to promote higher, longer and straighter shots from the tee or fairway.
Easy to hit Hybrid replaces long irons, combining the accuracy of an iron with the forgiveness of a wood.
7 Iron and Sand Wedge feature a wide sole, lowering the center-of-gravity to more easily launch the ball high and long.
Lightweight composite shaft features a specifically designed Junior flex to maximize clubhead speed.
Mallet shaped putter has an oversized head for more forgiveness and alignment marks to easily visualize a putting line to the hole.
Junior sized rubber grips feature an integrated design to teach hand position for a correct grip.
Premium headcover for the Driver protects the club head and shaft
Lightweight stand bag has 3 spacious pockets and a dual carry strap to evenly distribute weight.
RH and LH.
Click here to go back