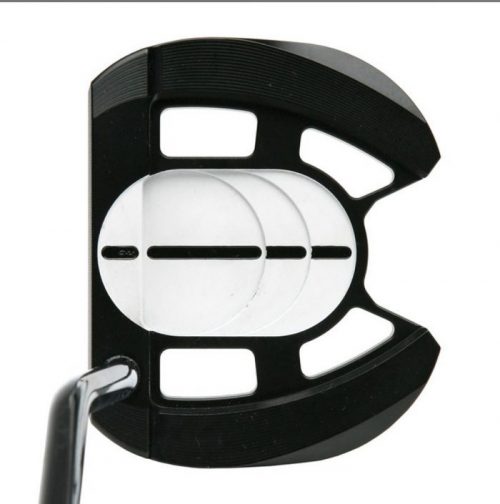 The Maltby Moment XII putter head features the effective BIM (Ball in Motion) alignment aid as the other Moment putters but the Moment XII BIM has been extended forward to cover the top line of the putter. By extending the BIM forward the BIM alignment aid not only improves the directional line at address but also aids in setting the putter in the correct lie angle and eye position at address. The XII Tour is ideal for players seeking a more traditional sized putter but still looking for the advantages provided by a high MOI putter head. The MOI of the Moment XII Tour putter head is 6480 g-cm² which is unusually high for a moderately standard sized putter head. The high MOI will greatly increase the distance and directional control of the golf ball when hit off-center resulting in more putts made and far less 3 putts. The high MOI is accomplished by CNC milling the entire head out of aerospace 6061-T6 aluminum and adding heavy stainless steel sole weights to the rear of the putter to stabilize the putter head significantly more through impact vs. a standard putter head regardless of the ball impact location. The MOI was further increased by removing as much mass as possible from the body via carefully located slots and cut-outs without sacrificing the structural strength of the putter head.
Features:
-Modern Tour Mallet 3.5" x 4.25" x 1" profile preferred by traditionalist.
-Unprecedented moment of inertia (MOI – 6480 g-cm²) for a traditionally shaped Tour designed putter head for increased accuracy and distance control.
-Extreme 6K MOI was obtainable by CNC milling the body from a 6061-T6 aluminum block and precisely positioning two (53) gram 303 stainless steel weights into the rear of the putter head.
-The combination of the 6061-T6 aluminum and stainless weights provide an incredible feel at impact and increase both distance and accuracy control.
-Rich anti-glare matte black finish.
-Produces a very solid and muted sound at impact.
-Bold Ball-In-Motion (BIM) Alignment helps to align putter head to the target at address.
-Forward Ball-In-Motion alignment aid position ensures the proper lie angle and eye position.
-Head Cover included.
-Available in RH only.
 Price: $199.00
Click here to go back