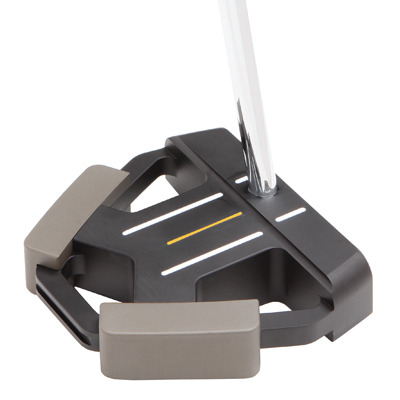 NEW!  The Maltby Pure-Track Putters are offer multiple weight and shaft choice options to fit almost any golfers needs. The Pure-Track putters can be purchased as a center shafted heavy/long putter (74º bore, 450 grams) or standard bore models in both belly and standard head weights (90º bore, 380 & 345 grams). Additional stainless steel weights (Long, Belly & Standard) are also available that allow you to customize your putter head to custom fit your desired head weight. All additional weights fit both the center and standard bore putter heads and attach using an included hex wrench. 
The Pure-Track putters are 100% CNC milled from air craft grade aluminum for an ultra solid feel and feature 3 bold alignment lines on the top of the putter for easy alignment.
-100% CNC milled to precise specifications from 6061 air craft grade aluminum.
-The aluminum hitting surface is CNC milled perfectly flat to produce consistent and solid feeling putts.
-Interchangeable stainless steel weights allow for 3 different weight options for both the center and heel shafted models.
-Weights are precisely located to the rearward perimeter of the putter to maximize MOI resulting in improved distance control and accuracy. 
-Available in 3 different weight/bore options: Center Shaft (74º) – 450 grams, Standard Bore (90º) 385 & 345 grams.
-Additional stainless weight kits available – Long, Belly and Standard – wrench included.
-Bold sight lines for improved alignment.
Price: $149.00 includes headcover.
Click here to go back