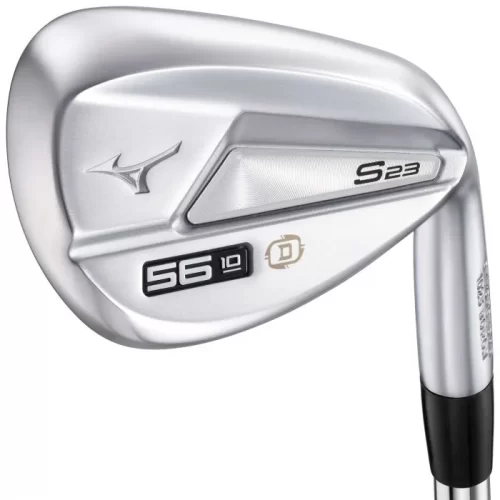 NEW FOR 2023!  Comprehensively engineered for extreme backspin, the new Mizuno S23 Wedges marry the precision and profile of a player's blade with the performance benefits of a toe-weighted design.
While conventional wedges have a heel-side sweet spot, the S23 features a shorter hosel and heel-oriented cavity to shift mass towards the toe, creating a centrally located sweet spot.  As a result, the wedge is much more stable and rotates less when the strike isn't perfect, leading to greater accuracy.  Additionally, the sweet spot's location raises spin rates on both full and partial shots by increasing the duration of time the ball sends on the face.
Mizuno S23 Wedges – Satin Feature:
One-piece Grain Flow Forged HD from 1025 mild carbon steel at Mizuno's iconic facility in Hiroshima, Japan, for a soft, solid, and consistent feel.
Player-preferred profile with the perfect blend of the teardrop and round address shape (more round in higher lofts).
Weight pushed to the toe creates a more centered sweet spot that's easier to hit and ensures a squarer strike, longer contact, and higher spin.
QUAD-CUT CNC Milled grooves are optimized for the wedge's loft and Boron infused for a longer effective lifespan.
HydroFlow Micro Grooves are laser etched into the face to release moisture and reduce spin drop-off in wet weather.
Available in RH (Satin Chrome or Copper/Cobalt finishes) in lofts ranging from 44* to 62*.  LH is Copper/Cobalt finish only.
Email or call/text 403-528-7007 for info.
Click here to go back