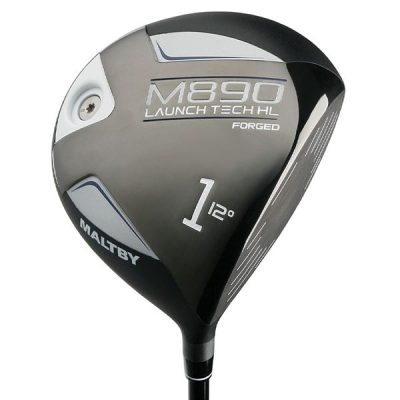 Precision Forging – The M890 driver is manufactured using a 14 step forging process. The face, crown and sole all require multiple tooling dies to ensure the titanium wall thicknesses and shapes are consistent so that minimum weld material is required during the precision welding process. The weight saved from the precision forging process is redistributed low and deep into the driver head to produce a low spinning, mid to high trajectory for maximum distance.
Loft Up For More Distance – The M890 drivers are available in 3 loft options (10*, 12* and 14*) to fit a wide variety of golfers by providing an initial launch angle that best fits their swing speed. Typically slower swing speed golfers, regardless of gender or age, will benefit from a higher lofted driver. Generally driver swing speeds of 60mph or less would be best suited with the 14 degree M890 driver, 61mph to 75mph should use the 12 degree M890 option and swing speeds above 76mph will benefit from the 10 degree M890 driver.
Head Weight Customization – The M890 driver features an interchangeable 8 gram weight positioned rearward towards the heel and deep into the club head to allow the club face to more easily rotate back to the square position during the downswing for improved shot dispersion. The stock 8 gram sole weight is interchangeable using the Maltby T-25 Torx screw weights by +/- 6 grams to allow for multiple shaft weight and shaft length options without sacrificing the feel of the overall assembled club.
M890 Shafts Options – To enhance the playability of the M890 club heads, we have created an M890 graphite shaft series that is available in 4 discrete flex options. The M890 shaft series features progressive torque and weight specs to optimize the trajectory and spin for a wide range of swing speeds.
Features:
Oversize 460cc 4-piece Precision forged design provides a great sound and high level of forgiveness.
Variable Face Thickness (VFT) 6-4 Titanium club face design maximizes ball speeds from any impact location on the clubface.
10⁰, 12⁰ and 14⁰ loft options optimize trajectory for a broad range of swing speeds.
Stock 200 gram weights for the 10⁰ and 12⁰ with an increased 204 gram head weight for the 14⁰ allowing for shorter club lengths and or lighter golf shafts
8 gram T-25 tungsten weight is positioned low and back to optimize trajectory and spin.
Additional T-25 weights for customization available in 2,4,6,10,12 or 14 gram options.
Available in right hand only in 10, 12, and 14 degree lofts.
Cost: $299.00
Click here to go back