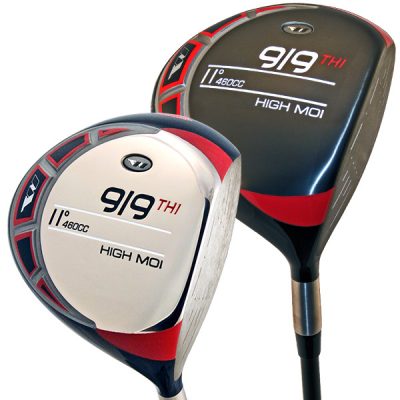 NEW! Wishon 919THI Driver:
-With the new bendable hosel, the 919THI Offers the Widest Range of Custom Driver Fitting Options.
-This head can be adjusted and/or hand selected in lofts from 8* to 16*, face angles from 4* open to 4* closed, and lie angle from 4* upright to 4* flat from the factory 59* lie angle.  No driver in the world can offer such a wide range of all three key specifications on the same head all together.
Features:
Re-designed with modern cosmetics, new variable thickness face design from a brand new form of precision forging tooling.
– High >5000 g-cm2 MOI created from the slightly elongated but balanced head shape with additional weight inside the rear skirt areas of the body.
– New Variable Thickness Face Design ensures the smallest drop in COR from center to off-center face locations – hit the 919THI off-center and you will not believe how well the face performs.
– Gradual Roll Technology (GRT) Face Design Ensures Consistent Launch Angle for all shots, whether hit low, center or high on the face.
919THI Drivers available in both conventional finish and a NEW Black Oxide finish – all designed with TWGT's unique bendable hosel .
Variable Thickness Face with High MOI delivers the best off center hit performance in the game.
All 919THI drivers undergo 6 separate face thickness QC checks during production to ensure the highest conforming smash factor
For 2016, the 919THI is also available in a beautiful black oxide satin finish with a striking but subtle red top crown highlights for the most modern cosmetic appearance. Available in conventional finish version in RH 9*, 11*, 13*, 15.5*.  LH in 11* and  NEW Black Oxide version in RH in 9*, 11* and 13*.
Headcover included.
| | | | | | | |
| --- | --- | --- | --- | --- | --- | --- |
| Clubhead | 1 | 1 | 1 | 1 | 1 | Tol. |
| Loft | 9 | 11RH | 11LH | 13 | 15.5 | |
| Lie | 58 | 58 | 58 | 58 | 58 | |
| Weight | 203 | 203 | 203 | 203 | 203 | |
| Volume | 460 | 460 | 460 | 460 | 460 | |
–Available in right and left hand.
Price: $329.00
Click here to go back