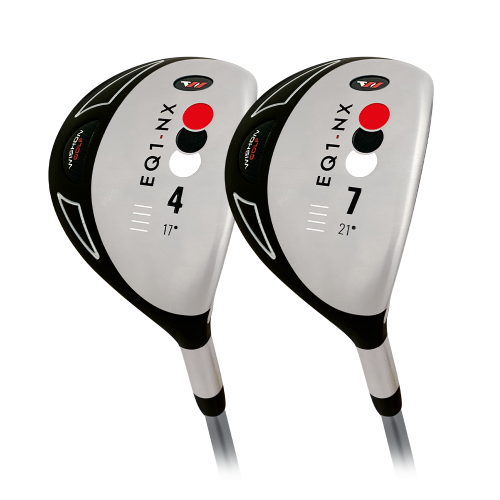 NEW!  The EQ1-NX Fairway Woods represent the most unique and versatile fairway wood design ever created through a greatly expanded internal weight addition capability to allow custom assembly to achieve a fairway wood single length or to be played at conventional fairway wood lengths. 
• Each EQ-1-NX fairway wood head is produced with the ability to add up to a maximum of 30g to achieve normal swingweights at a 40" to 41"single length to complement the EQ1-NX single length irons and hybrids .
• Natural head weight spec of each EQ1-NX fairway wood head also allows assembly to conventional wood lengths of #3(42"-43"), #4(41.5"-42.5"), #5(41"-42"), #7(40"-41"). Any length in between 40" and conventional fairway wood lengths is also capable for an even wider range of fitting options. 
• High COR thin high strength steel face design. 
• Available in #3(15*) #4(17*), #5(19*), #7(21*) in RH. For single length use we recommend a set makeup of #3/#5 for better ball strikers or players with a driver clubhead speed over 95mph and a set makeup of #4/#7 for average players or any golfers with a driver clubhead speed under 95mph.
• The four different weight bores allow for maintaining the best CG position low and center located, as well as to be able to increase the trajectory with the new twin rear sole weight bores. 
• Each EQ1-NX fairway is shipped with 2 x 6g and 2 x 9g weights included to make it more economical when building to match the EQ1 single length irons. 
• The spec lie angle of 60* for each EQ1-NX fairway wood is created for assembly to the single length option between 40" and 41". EQ1-NX fairway woods are capable of being bent up to 2° to allow proper lie fitting when assembled to conventional fairway wood lengths.
• See the EQ1-NX Irons and Hybrids to create the ultimate Single Length set.
Click here to go back