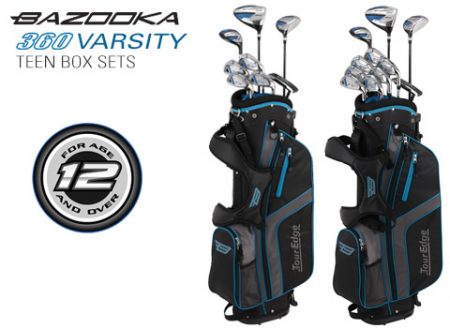 Bazooka 360 Varsity is perfect for young teens who have outgrown a kids set but aren't quite ready for adult clubs. The set features a titanium matrix driver for longer drives and the maximum-allowed 460cc clubhead for a higher MOI (the club's ability to resist twisting) for increased forgivieness even on off-center hits.
To help reach par 5s in two, the 360's oversize, low-profile 3-wood has a low center of gravity, making it easier to hit from tight lies and get the ball easily airborne. The set also includes an easy-to-hit #4 hybrid designed for maximum carry and a soft landing on the green. Complimenting the hybrid are oversized stainless steel irons that feature extreme heel/toe weighting for a larger sweet spot and straighter, more forgiving shots.
To make more putts, the Bazooka 360 Varsity set includes a high-MOI, heel-toe style putter with an easy alignment aid for maximum accuracy. The set also includes a lightweight stand bag with a comfortable dual strap and fast-action stand.
BAZOOKA 360 VARSITY SET SPECIFICATIONS

LOFT

LIE

STEEL LENGTH

GRAPHITE LENGTH

—

—
*Indicates club is included in starter set. Full set contains all clubs listed in chart. Available in right and left hand. Headcovers are included with woods.
Graphite shafts in woods, lightweight steel shafts in irons.
Call or email for pricing.
Click here to go back